Park Place
We were hired to design the renovation for this St. Bernard home for local real estate investor Flipping Cincy. Our design scope included selecting interior and exterior paint colors and lighting, creating a new kitchen layout, creating the floor plan for a full bathroom and laundry area on the first floor, and selecting all finishes for the kitchen and bathrooms; Flipping Cincy then executed our design plan with their own hired contractors. When it was ready to hit the market, we staged and photographed the home for the client as well. Stay tuned for an upcoming blog of before and after photos!
The LIttle Lemon House
We bought this little yellow house as our first Airbnb property in Cincinnati's popular Oakley neighborhood! We relocated the kitchen, expanded and remodeled the bathroom (and added on-site laundry), and aesthetically upgraded the paint, lighting and fixtures throughout the home. Visit our Airbnb page for more photos and booking details.
The Big Brick Bungalow
Our most ambitious project to date, the "big brick bungalow" was as a 1-1/2 story home with huge footprint, but a barely usable second floor. We "popped the top" off completely to build a large bungalow-style second story that fits in perfectly with the other century-old homes on its gaslit street. We also gutted the interior to the studs to open up and reconfigure the space and update all the mechanicals. In addition to reworking the floor plan and adding hundreds of usable square feet, we also built new front and back porches, poured all-new concrete, constructed a garage and installed extensive landscaping. A beautiful blend of old and new, we loved this home so much that we decided to move into it oursevles! See all of the finishes we installed on our Pinterest board.
MINOT
A mix of mid-century modern style and classic/vintage design elements mix seamlessly in this nearly 100-year-old character home in Oakley. As our former family home, we selected the colors, lighting and finishes throughout and designed complete kitchen and bathroom renovations, both of which involved re-configuring the layout of the rooms for optimal flow and functionality. This home was just under 1,500 square feet, yet feels much larger thanks to the strategic usage of color, the scale and placement of furniture, and the improved layouts of the kitchen and bathroom.
eileen
We purchased this duplex on Eileen Drive with just 3 bedrooms and 2 bathrooms and converted it to a single family residence and constructed a master suite addition, creating a 2,350-square foot family home with 5 bedrooms, 2.5 bathrooms and open-concept living space. Original details like hardwood floors, exposed brick, stained glass windows, and beautiful sold wood doors were preserved to maintain the character of this old home in Oakley while modern finishes and lighting blend seamlessly and bring it up to today's design standards. Check out our blog for the amazing before and after photos of this renovation. Want the scoop on the fixtures, finishes and paint colors we used? Check out our Eileen house Pinterest board!
Woodford
We purchased Woodford as a 3-bedroom, 1-bathroom, 1700-square foot home in the heart of Cincinnati's Pleasant Ridge neighborhood and converted it to a 4-bedroom, 2.5 bathroom, 2200-square foot modern farmhouse with a spacious master suite. Everything was updated from the roof to the electrical wiring. Renovations also included a reconfiguration of the kitchen and main bathroom for better flow. Check out our blog for side-by-side before and after photos as well as sources for this project.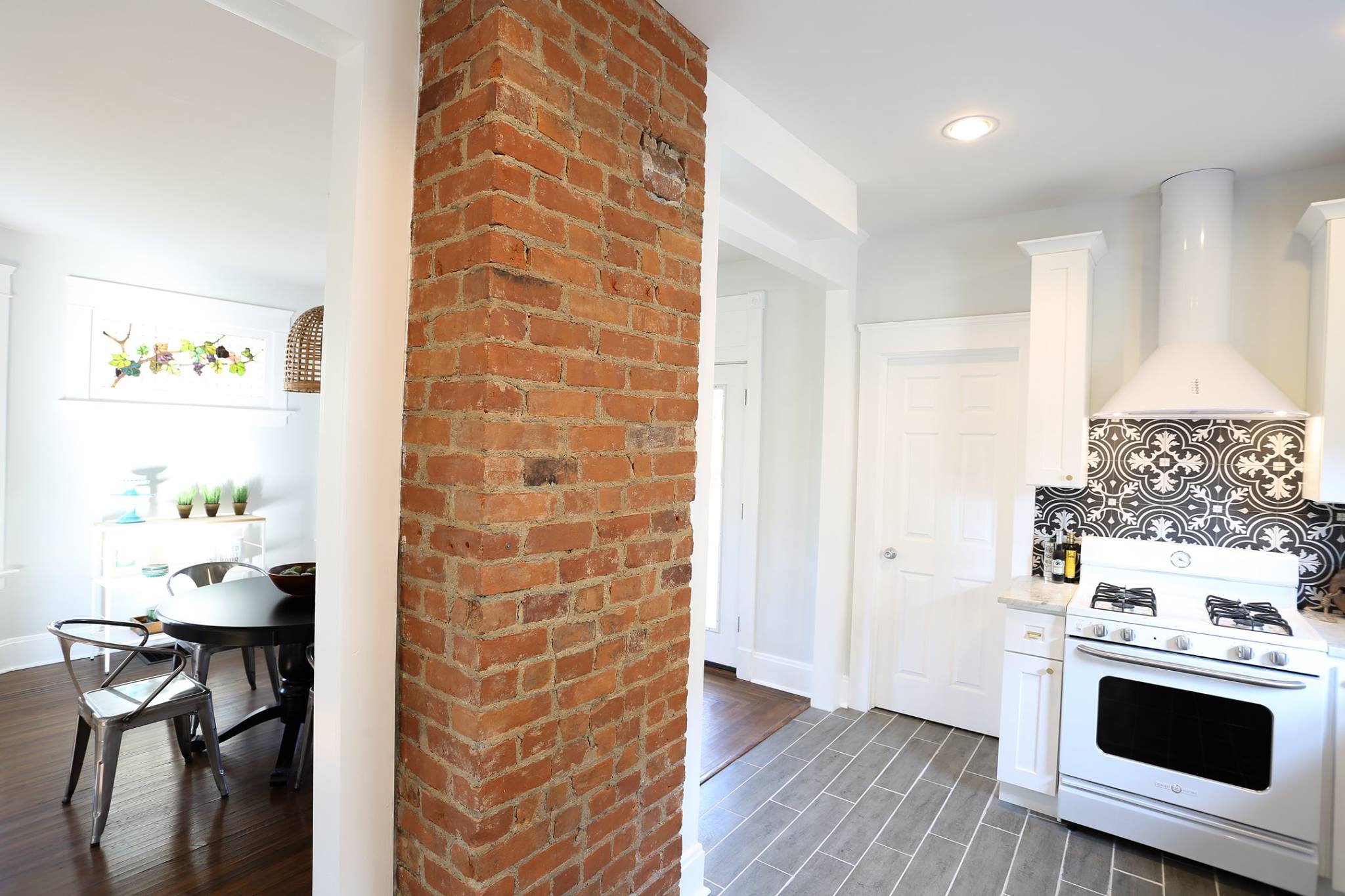 Arrow
This 2-bedroom, 1-bathroom home in Pleasant Ridge boasted large room sizes and an enormous kitchen with original pine subfloors we found under layers of laminate tile. A new kitchen layout along with updated tile, fixtures, windows and paint modernized the space.
Plainfield
This quaint home in Deer Park featured 2 bedrooms and 2 full bathrooms as well as a semi-finished basement that we waterproofed during the renovation. We updated the entire kitchen and both bathrooms as well as all fixtures, paint and windows in the home.
WOODSfield
Our first flip, located just one block from Pleasant Ridge's business district, was a 2-bedroom, 2-bathroom shotgun style house. The second floor included a master suite with a walk-in closet and a full bathroom that we reconfigured for optimal flow. An unfinished attic on the third floor offered lots of extra storage.